Intel's new 12th Gen processors are finally here, promising the next level of gaming performance for even the most hardcore gamers. But as any serious gamer knows, the processor is only part of the story.
The real heart of any gaming rig is the motherboard, so having one that can unleash the full power of new processors is essential. Gigabyte's new Z690 AORUS Elite DDR4 motherboard is purpose-built to squeeze the maximum power out of Intel's new 12th Gen processors.
One of the unique features of Intel's new chipsets is their new hybrid core architecture. Intel has integrated both high-performance P-cores and power-efficient E-cores into the same SoC to help optimize processing speeds to squeeze more performance out of the chip when you need it and consume less power. energy when you don't need it.
Gigabyte designed the Z690 to take full advantage of this new capability. It creates two separate BIOS profiles tailored to how the PC is used. When gaming, all E-cores are disabled so you can get the most out of CPU speed. When creating content or performing other demanding tasks, the motherboard moves to maximize the P and E cores to ensure optimal performance.
But it's not just the processor that gamers rely on for performance. Having a fast memory is important to make sure nothing slows you down. The Z690 supports DDR4 XMP memory up to 5333MHz so you never miss a beat. And with 4 compatible 32GB memory slots, even the most memory-intensive tasks won't slow you down.
Gamers like to live at the peak of performance. Gigabyte has therefore included support for the new PCIe 5.0 so that gamers can take full advantage of the latest graphics and storage cards to complement the new 12th Gen processors.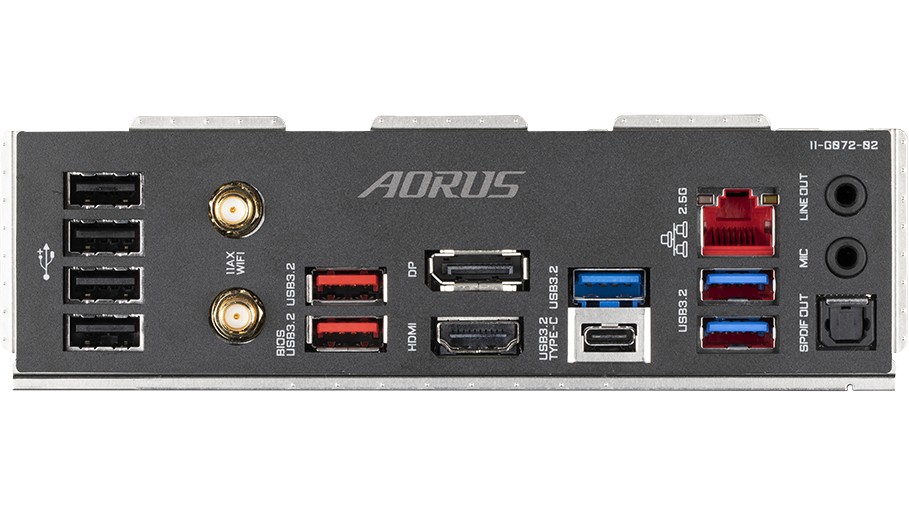 The motherboard power supply is a 16+1+2 VRM design with premium chokes and capacitors and a 70A power stage to ensure optimal CPU power.
With all that power comes the great equalizer: warmth. No matter how good a player you are, if your rig starts to stutter from too much heat, it's game over. Luckily, the Z690 has an advanced thermal design to help keep everything cool even under the most demanding loads.
The MOSFET is fully covered top and bottom, giving it up to 2x the surface area of ​​traditional heatsinks, allowing for greater heat dissipation. Gigabyte has also built a unique 2x copper PCB design that lowers component temperatures by up to 3% by turning the PCB into an incredibly thin copper heatsink to keep thermals lower under demand.
There are three different series in the Z690, each designed to help users optimize performance for what they do most. The AORUS line offers the optimal combination of power and efficiency to unleash the full potential of the new 12th generation chipsets.
The GIGABYTE range is entirely dedicated to gamers. It is designed to keep gamers performing for as long as possible. For content creators and creative professionals, the AERO Series combines power and durability to handle the most demanding tasks.
The entire Z690 series is available for sale now, and you can check them all out on Gigabyte's website. You can also enter below for a chance to WIN a Z690 AORUS Elite AX DDR4! The contest is open to our readers in the United States only, and all entries must be received by its final close on May 5, 2022. Good luck!
Contest on Gleam.io