Video content is everywhere these days and it's likely to only grow over the next few years.
It's hard to visit a webpage today and not find a video playing somewhere on the page and the ubiquity of YouTube, Instagram, Snapchat, TikTok and more has opened the door to billions of people. to create and upload their stories for the world to see. .
As with most things in life, the right tool can make all the difference to a video's finished product. Although filters, image processing and mobile editing tools on smartphones have become quite impressive, they still cannot replace the capabilities of professional video editing software.
GOM Lab has been developing software for over 20 years and has built a strong reputation for powerful, affordable and easy-to-use software in Korea and Japan over the years. They are known for their GOM Player video player app which is consistently ranked among the best free video player apps in the world.
They now bring their expertise in creating powerful and intuitive software to video editing.
There are dozens, if not hundreds, of video editing software choices available and each has its pros and cons. GOM Mix Max (opens in a new tab)from GOM Lab, is video editing software for Windows that aims to provide professional-grade tools at a price everyone can afford.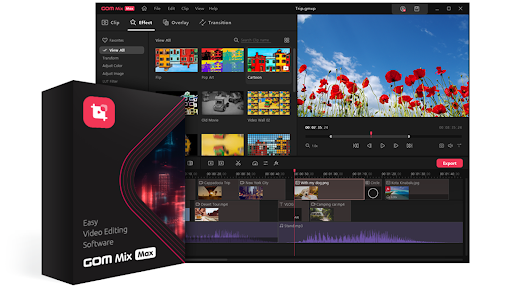 When most people think of video editing software, they probably think of Adobe Premiere Pro, which has been the industry standard for professional video editing for years.
One of the biggest frustrations with Premiere Pro is the very steep learning curve, which isn't ideal for anyone just starting out trying to edit video.
GOM Mix Max, on the other hand, is specially designed to be easy to use. GOM Lab has recently redesigned the entire interface with a focus on creating a human-centric user experience that even allows users to rearrange features in a more convenient way for them.
For example, it is now possible to change the location of the preview and menu area, set hotkeys, search for effects, set preferred effect overlays, and more.
But it's not just the interface that's customizable now. Users can now adjust and apply templates in detail, take advantage of expanded timeline features, and have unlimited multi-track workflows to ensure they create the best videos possible.
GOM Lab has also worked to make the software faster and more seamless to use by creating a new home screen, comprehensive tutorial guide (opens in a new tab)and reducing encoding time so creators do more, faster.
GOM Mix Max includes several advanced editing features such as Picture in Picture (PIP) and even Chroma Key support for editing green screen footage.
One of the main benefits of GOM Mix Max is that video editors of all skill levels can have access to the same professional-grade tools available in more expensive software at a fraction of the cost.
In fact, new users can try the software for free. Just enter purchase information and users can get two full months (opens in a new tab) software for free and after the trial period is over, you have the option to purchase the full software at 60% off the retail price.
For anyone looking to create professional quality video content without spending a fortune, GOM Mix Max (opens in a new tab) the software is worth a try.