Our top-rated VPN service, ExpressVPN, just launched a brand new password manager tool to extend its security even further. This will allow users to easily generate, store and populate passwords that comply with industry best security practices.
Developed in-house from the ground up, a limited public beta of ExpressVPN keys is now available across all of its apps. The full software is expected to be officially released for all users later this year.
Unlike other providers that charge users an additional cost – NordVPN with its NordPass, for example – ExpressVPN Keys is completely free and will be available to all VPN subscribers. You can even keep the software if you cancel your ExpressVPN subscription.
"We pride ourselves on helping people take control of their password security and enjoy a secure and effortless online experience," says the ExpressVPN team. "Unlike the free offering of other password managers, there are no limitations. We are also proud to be the first VPN provider to offer a full-fledged password manager as part of of our existing subscription, at no additional cost."
What are ExpressVPN keys?
Password managers are growing in popularity as a way to protect your online account from hackers and snoopers. These tools are often used alongside other security services, like VPNs and antivirus software, to add an extra layer of protection.
Built into the ExpressVPN apps and its Chrome extension, Keys uses zero-knowledge encryption so that only you have access to your credentials. This means that your passwords can only be cracked on your devices once you unlock the ExpressVPN keys with your own credentials.
Users will be able to store an unlimited number of connections as well as sync as many devices as they wish. A built-in password generator and strength checker will help you create the most secure password, and Keys will also securely store all your logins.
As mentioned earlier, ExpressVPN Keys is currently rolling out in a limited beta as a Chrome browser extension for Windows, Mac, and Linux as well as the ExpressVPN Android app. It will be available on the ExpressVPN iOS app in May. Later in the year, it will be released to the general public.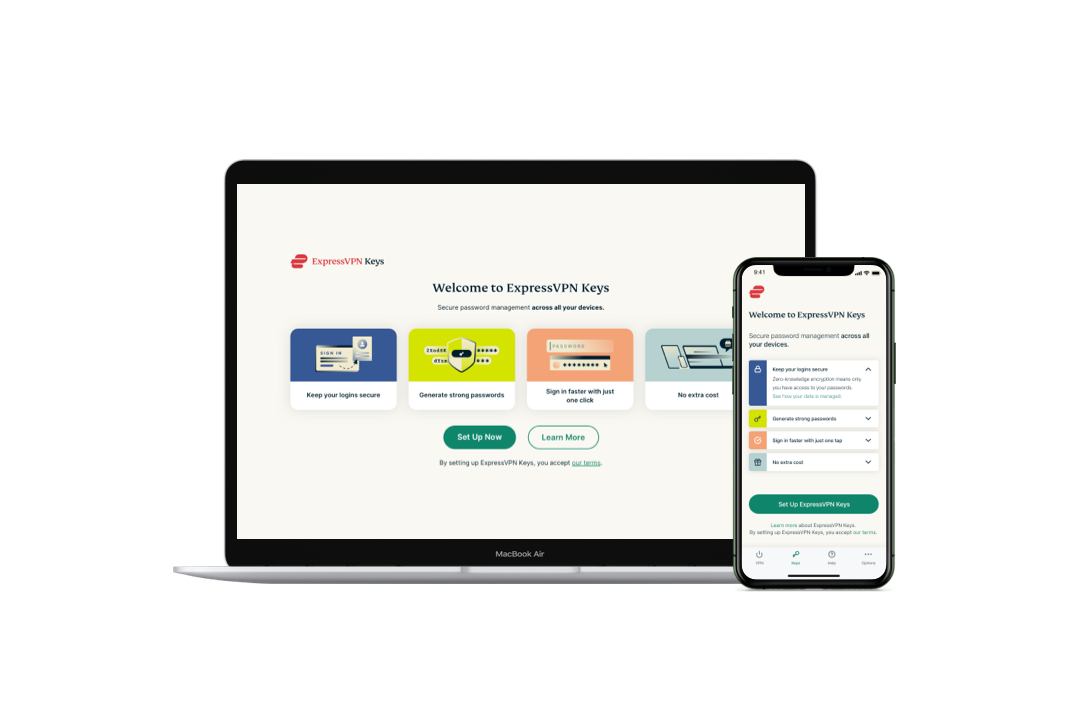 ExpressVPN isn't the only provider trying to extend its security reach. As cyber threats become increasingly multifaceted, security companies aim to offer more comprehensive protection to their users – and in doing so, ensure that customers still view the product as value for money.
As mentioned earlier, NordVPN has also developed its own NordPass password management tool. The vendor also recently introduced a new feature called Threat Protection which, while it cannot match dedicated antivirus programs, can protect devices against certain online threats.
Surfshark has also released its own comprehensive security suite. Users who decide to upgrade to its Surfshark One offering will get four cybersecurity tools with just one subscription. These are its own VPN, data leak detection system, private search engine and antivirus. Software.
It's no surprise that ExpressVPN is following suit, and as market trends move towards more comprehensive packages, VPN-only offerings are likely to suffer.