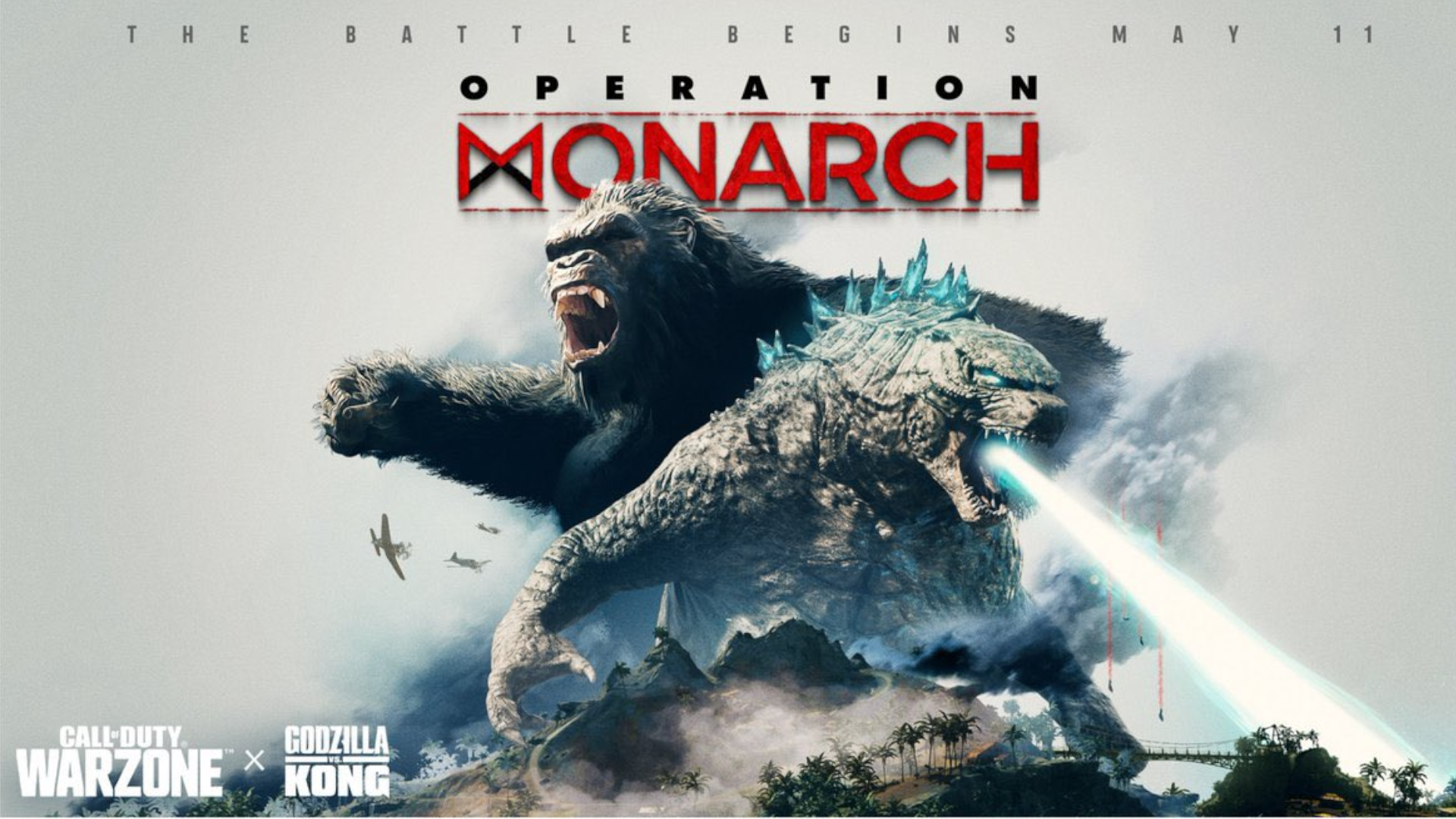 Refresh
In anticipation of Operation Monarch, Call of Duty is hiring digital artists to create a mock-up poster that will be part of the official campaign.
You can try to immortalize the epic battle between King Kong and Godzilla and win $2,000, which is around £1,594 / AU$2,810. There's a whole brief to follow, so be sure to tick all the boxes if you want to participate.
You can find more details on the official website.
If you want to get that sweet XP, the Call of Duty Twitter account just confirmed that there is max 2XP by Monday May 2. This goes for both Vanguard and Warzone.
A weekend of grinding awaits those of you who want to make some serious progress as fast as possible.
The Vanguard Season 3 patch notes have also been removed. Sledgehammer Games shared the details in a blog post.
Ranked play is leaving the beta, but it ran into a glitch immediately after the update went live. But it's settled now.
Season 3 Player Skill Ratings have been reset, and the Season 3 Top 250 Division and Skill Ladder rankings are set to go live on May 4. We'll be a week into the new season then, so you'll have plenty of time to earn a rating and progress through the divisions.
This isn't the first time this bug has appeared in Warzone. A December 2021 update also messed something up and required players to have an Xbox Live Gold membership to play. This was after Xbox rolled out its free games policy.
The official Call of Duty Twitter account has yet to respond to complaints. And neither does Raven Software. Developers may still be struggling with the "corrupt loading data" error.
If you're not desperate enough to play that you're going to sign up for Xbox Live Gold or Xbox Game Pass, you'll have to find other ways to have fun until this issue is resolved.
If you thought the drama was over, think again! Another bug has surfaced which has caused Warzone to no longer be free.
"I can't play Warzone on Xbox Series X without xbox gold/ultimate pass," tweeted @mactez5.
"It was free2play until today's update. Please fix this bug. It says 'current profile is not authorized to play on xbox live'".
Another Warzone player also encountered this issue, Tweeter"Thanks for the update, now I can't play Warzone unless I buy a subscription, too bad for a free game."
@BagsPlays shared a screenshot of the bug, saying they've been playing Warzone for free for months, citing Xbox's free games policy. A few people responded to their tweet saying they had the same issue.
The new #Warzone update broke my game. I haven't had Xbox Live Gold or any subscription for months now and was able to play free games including #Warzone. Microsoft instituted this policy last year. @InfinityWard please fix ???? pic.twitter.com/gXmhlf0PVnApril 27, 2022
See more
It doesn't look like the developers have acknowledged it yet, but we'll be watching their social media. Fingers crossed are resolved because requiring a paid subscription for a free title on Xbox won't do them a favor.
A new problem has surfaced and Raven Software is on the case! But you're going to have to sit still for a solution.
A few people on Twitter have reported an issue preventing them from playing Warzone. They get an error about "corrupt upload data" and get disconnected.
Raven says it is investigating and will provide an update "As soon as possible", but there is no indication that it has a solution ready to deploy yet.
❗️ We are investigating an issue where users are encountering a "Corrupt Loading Data" error. We will provide an update as soon as possible.April 27, 2022
See more
The tweet reporting the issue is causing frustration in the community.
"Shouldn't things like this be caught when you test your game? I just don't understand how things like this that break the game slip through almost every update," said @Jack_Moo_re.
"Maybe they should fix the game besides adding mobs…." added @TECH_KyleJ.
These are among the sweetest responses to the tweet, but there's certainly no measure of patience.
If you are affected by this error, keep an eye on the Raven Software Twitter account for more updates.
Treyarch acknowledged the issues on Twitter and said it should be fixed. Some answers suggest there are a few other issues, but if you're playing ranked you should be able to get in.
The studio has asked anyone who is still running into this issue to let them know. So go ahead and tweet them if that still shows up.
This issue should now be resolved. Please let us know if you still can't get past this screen.April 27, 2022
See more
Ranked play seems to be causing issues for some CoD: Warzone players. @DrDembie on Twitter said they had issues all day, which isn't a huge surprise given the need for server downtime. But more reports have surfaced since the update was rolled out.
I can't press continue I tried to close the app several times pic.twitter.com/ACAXyqw8mFApril 27, 2022
See more
@esiDra_X posted the tweet above, saying they closed the game and restarted, but had no luck. A few people replied that they had the same problem. another user complained of the same problem, and their frustration is echoes further down the thread.
This was about half an hour after the update went live, so we'll keep an eye on the situation to see if it's addressed or resolved.
You can read the Warzone patch notes for yourself, but this update is important. There are a ton of weapon changes, new Caldera locations to explore, as well as new Operators.
If you've been waiting for your download, you can pass the time by browsing what awaits you when you finally get in on the action.
A few Warzone players are complaining about the size of the Season 3 update file on social media. The series is notorious for releasing hefty updates that will have you deleting every game you own just to make room for them. Here are the file sizes for each platform:
PS5
PS4
Xbox One X|S
Xbox One
computer

38.3 GB (Warzone only)
98.3 GB (warzone and modern warfare)
"Just deleted [Modern Warfare] fuck that shit," tweeted a fan. "I don't download [100GB] it's all a fucking game."
"It's not funny these sizes anymore," added another.
PC gamers looking to update Modern Warfare and Warzone are either considering a gigantic update or ditching Modern Warfare for Warzone Season 3.
Call of Duty: Warzone is climbing the ranks on Twitch. It doesn't quite benefit from the surge in viewership that the Overwatch 2 PvP beta had yesterday. It currently has 105,000 viewers, behind DOTA 2, Valorant, FIFA 22 and, of course, the Overwatch 2 beta.